Silicone Hose Black 4-Humps 2,5'' (63mm)
Fast deliveries

Great support

Worldwide shipping
4-Humps Hose (CAC hose):
These hoses are entirely manufactured in high quality silicone for best finish and durability. With three layers of Aramid reinforcement, these hoses withstand high pressure rates and high temperatures for a long time. The car´s / trucks original hoses are often manufactured in rubber that not seldom cracks from age. 
These hoses are especially developed to absorb movements, flexing and vibrations. A counterbalance between two relative objects, not moving in the same direction. They will allow a movement in any direction without folding or putting the connections at stress.
This type of hose is often called CAC hose (Charge Air Cooler Hose). Since this hose is often used to connect turbo to intercooler and intercooler to the engine manifold.
Intended use:
 -Charge air applications, turbo, intercooler, compressor.
 -Suction applications, air filter, inlets.
Visualization of bending: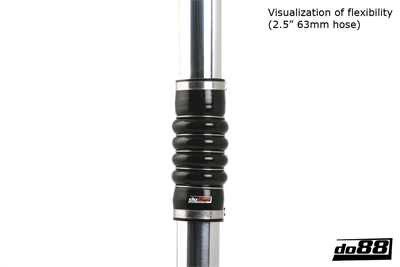 Visualization of compression: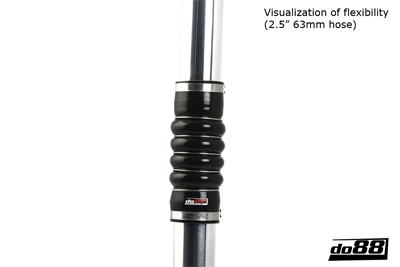 | | |
| --- | --- |
| Possible installation angle: | 0-53° |
| Inner diameter (mm): | 63 mm |
| Inner diameter (inch): | 2 1/2 &quot |
| Length: | 200 mm |
| Color: | Black |
| Wall thickness: | 4 mm |
| Temperature range: | -40 to +250 °C |
| Reinforcement: | 3 layers |
| Material: | High quality silicone rubber / Aramid fabric. And 5 steel rings. |